Blog Home
Laundry Day Tips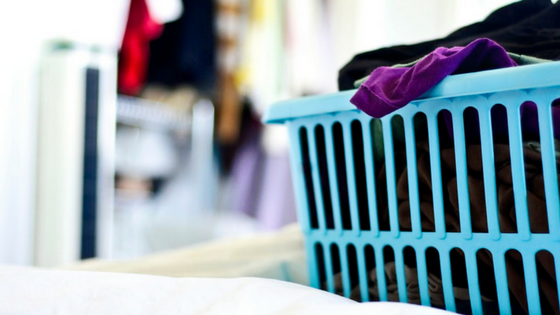 At South Winds Apartments we are pleased to offer an on-site laundry facility as one of our amenities. Being able to do laundry here in our apartment community means no more driving around Fall River, MA with a load of laundry stuffed in your car trying to find a clean, reasonably-priced, open laundromat! Today in our blog post we have some tips for successfully conquering Mount Washmore, as well as a few points of etiquette for our laundry center.
Laundry Day Tips
Laundry hampers are notorious for becoming smelly, and this simple solution will help! Simply fill an old nylon (knee highs work perfectly or cut off the leg of a pair of pantyhose) with baking soda. Knot the end and hang inside your hamper to create an odor eater. Replace monthly.
Throw a dry towel into your dryer with wet laundry — it will absorb moisture and speed up the drying process.
In a pinch, your flat iron works well to iron cuffs and collars for your shirt. It also works well to iron ties on aprons, blouses, or dresses.
Go white. Use all white towels for the bathroom. They can be washed as one load, and when necessary, they can be bleached.
For help with removing stains, refer to this stain solutions guide put out by the Extension Office at the University of Illinois. Whatever stain you find on your stuff, this has the solution!
Laundry Facility Etiquette
Pre-sort your laundry by using a three-bin hamper for darks, lights, and colors. This will save you time and energy when it's time to haul the laundry to the laundry center. We suggest using a foldable wagon to get it from here to there.
Be aware of how long it takes to do your laundry and plan accordingly. There's nothing worse than arriving at the laundry facility without enough time to get everything dry. If you must leave and come back, set a timer on your phone so you can arrive in time to empty your washer on time.
Be courteous to other members of our community and clean up after yourself. Be especially careful to clean up any spilled bleach so as not to ruin your (or anyone else's) clothing with bleach spots.
Use laundry time to multi-task. It is a great opportunity to read a book or those magazine articles you've been meaning to get to, or to crochet, knit, or catch up on your latest online game.
What are your favorite laundry day tips? Please share so we can all use them! Thanks for reading today's blog post.