Blog Home
Perfect Picnics at the Park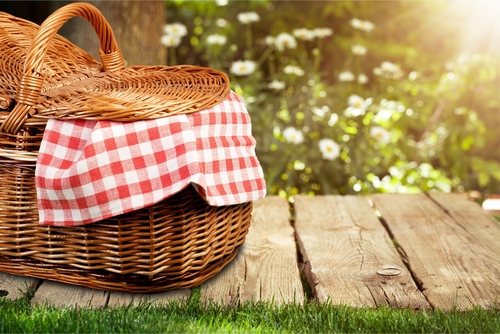 It's nearly summer, and one of the season's simple pleasures is enjoying a picnic at a park in Fall River, MA. There is something about eating outdoors, with your fingers, that feels a bit trendy and magical. Create a memory and pack a wicker basket with a loaf of French bread (or other artisan bread), sliced cheese (check out cheese.com for the rundown on all types of cheese), a nice cluster of grapes, and a bottle of your favorite beverage. Rip chunks of bread from the loaf, add a slice of cheese, and experience instant bliss.
Sandwiches, chips, veggies, and fruit sides also lend themselves well for picnics, as does fresh salsa and chips with a side of sliced melon. However, not all picnics are designed for no utensils — for a traditional picnic, go all out with fried chicken, potato salad, corn on the cob, and chocolate cake for dessert. (A quick way to make corn on the cob and keep it hot is to place shucked corn in a clean cooler. Pour boiling water over it until it's completely covered, replace the lid, and wait for 30 minutes. Yum!) The Cutestuff Cooks blog has family-tested recipes for Mom's Fried Chicken, Potato Salad, and Sour Cream Chocolate Cake.
A variety of salads create a fun picnic, too. Simply add rolls and butter (flavored butters are a nice touch) and lunch is served. For a zesty, refreshing taste, give this salad a try:
Tomato, Avocado, and Cucumber Salad
1 avocado cut into small chunks
1 cucumber peeled and cut into chunks
1 basket cherry tomatoes
1 bunch of green onions minced
Mix together and let chill. Just before serving, add a garnish of chopped cilantro and 4-8 oz of a hard cheese, cubed.
Many parks have grills available. Check it out in advance, and if they do, take along some burgers to go with your salads.
Where is your favorite place to picnic? Do you have a favorite picnic menu? Please share in the comments. Thanks for reading the South Winds Apartments Blog today!